Prudential Emerging Visionaries Program 2024
Do you have a vision to transform your community—and the world—for the better? Where others see problems, do you see potential? Prudential Emerging Visionaries is a national recognition program that awards young people who are leading innovative projects to address financial or societal challenges in their communities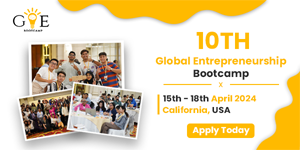 ELIGIBILITY, AWARDS & MORE!
For further information on eligibility, criteria, frequently asked questions, and a detailed timeline, click the links below:
Need inspiration? Learn more about last year's awardees and check out the work of Prudential Emerging Visionaries alumna Nikita, co-founder and president of "FinPro World," an initiative that promotes financial literacy among middle and high school-aged students by teaching them computer programming skills. Or get inspired by alumnus Kean, co-founder of "Environmental Droners," an initiative that uses technology to engage the public on protecting the environment by identifying polluted areas in need of cleanup.
September 28, 2023 (11:59 PM ET / 8:59 PM PT): Early Entry Deadline
November 2, 2023 (11:59 PM ET / 8:59 PM PT): Final Entry Deadline
November 7 – 24, 2023: Screening and Community Review
February 13, 2024: Winners Announcement
April 20 – 23, 2024: Prudential Emerging Visionaries Award Summit
April – June 2024: Coaching for 2024 Prudential Emerging Visionaries