Applications for the Pratt & Whitney E-STEM Awards 2023 are now open. The Pratt & Whitney E-STEM Awards support promising E-STEM programs across the globe to build environmental literacy, STEM skills, and pathways to environmental careers through two funding opportunities: E-STEM Prizes and E-STEM Grants. E-STEM Prizes recognize excellence in established programs and E-STEM Grants support and enhance new programs.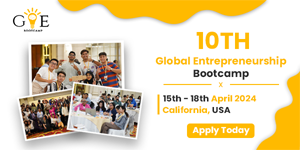 E-STEM engages students in meaningful, real-world environmental problem-solving that integrates science, technology, engineering, and math (STEM). Moreover, E-STEM is not only a philosophy of teaching that promotes interdisciplinary learning, but also inspires students to apply what they learn to help solve complex environmental issues.
They are particularly looking to support applicant organizations that engage students (ages 11–22) in taking action on climate change solutions, sustainable energy, and/or sustainable aviation; work with underrepresented audiences in STEM; and use partnerships to boost their impact.
Benefits from Pratt & Whitney E-STEM Awards 
Prize winners will receive:
Funding to support their E-STEM programs:

E-STEM Prizes Funding: A pool of $50,000 USD will be awarded in each of the following geographic regions, and may be awarded to a single or multiple programs, depending on the caliber of applications received:

The Americas
Europe, Middle East, and Africa
Asia Pacific

E-STEM Grants Funding: Grants will be awarded in the following categories:

Geographic Categories: Each geography listed below has a funding pool of $30,000 USD. Nonprofits will be placed into geographic categories based on their headquarters location. Individual grants awarded will be between $5,000–$15,000 USD.

The Americas
Europe, Middle East, and Africa
Asia Pacific

Special Categories: Grants of $10,000 USD are available to any organization that is working or proposes to work on projects that are focused on sustainable aviation.

Global recognition of their organization's work through NAAEE and Pratt & Whitney's platforms.
Professional development and peer learning opportunities with E-STEM awardees.
Access to the NAAEE network and Pratt & Whitney nonprofit community.
Eligibility for Pratt & Whitney E-STEM Awards 
Applicant organizations must:
Be a school, academic institution, or university, or an organization tax-exempt under section 501(c)(3) of the United States Internal Revenue Code and not classified as a private foundation, or a nonprofit or non-governmental organization with recognized legal status in their respective foreign country that is equal to section 501(c)(3) status. You will be requested to upload documentation to prove your nonprofit status in your application.
Not be subject to U.S. or other applicable governmental sanctions and other restrictions. See a full list of U.S. sanctions here.
Have a working bank account that can receive electronic funds in USD. The bank must not be subject to U.S. or other applicable governmental sanctions and other restrictions.
Be able to demonstrate fiscal and administrative stability.
Submit a program that works with students ages 11–22.
Be able to administer programs between November, 2023–October, 2024.
Only submissions in English will be considered.
Requirements
Once awarded, prizes winners are expected to:
Attend a virtual 1-hour awardee orientation in late 2023.
Evaluate and report on project activities and outcomes related to STEM interest, STEM skills, environmental literacy, and any other project-specific outcomes through a midterm and final report.
Participate in quarterly opportunities to share about project activities, outcomes, and lessons learned with NAAEE and Pratt & Whitney staff, fellow E-STEM Awardees, and the public (e.g. through blogs, social media, and/or other platforms).
Application of Pratt & Whitney E-STEM Awards 
All application materials are due by June 28, 2023, 11:59 PM ET.
Lastly, It is important to visit the official website link found below to access the application form.
Correspondingly, Join us on Telegram for more opportunities!
Similarly, Visit oyaop.com and oyaschool.com for more scholarship opportunities.