Applications are open for the GE'DA Digital Fellowship 2023. The fellowship is designed to strengthen the capacity of founders and key executives of nonprofits and social enterprises in Africa between the ages of 22 to 50 years working on any of the 17 SDGs.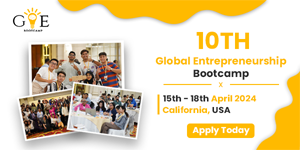 GEDA digital is a 6-month intensive professional leadership development program that offers you a unique opportunity to become impact investment ready and develop the skills that are required to lead a sustainable enterprise, increase your personal and brand visibility, be mentored, access funds, and solve the global challenges facing Africa. Participants are selected from diverse sectors in development from any part of Africa and will provide an immersive learning experience to build for long-term impact.
Benefits from GE'DA Digital Fellowship
Win a share in $3,000 grant and access mentorship based on your performance.
Eligibility for GE'DA Digital Fellowship
Applicant must be the founder or hold an executive position within a registered organization.
Candidate is committed full-time to running the enterprise.
Must have at least 1 person in full time employment
The enterprise the candidate is leading is mission driven, meaning that the sole objective is not to make a profit, but also to have a positive impact on society.
Be available to commit to attending all sessions.
Applicants must be 22 – 50 years.
Ability to attend the launch and graduation event.
Applicant and social enterprise organizations are interested and ready to scale the organization.
Must have a laptop and access to the internet.
Must be creating positive, direct, and intended impact aligned to one or more of the SDG's or AU Agenda 2063.
They are looking for:
Passion for the Intersection of your solution with any of the 17 SDGs: Your solution must be addressing any of the Sustainable Development Goals.
Capacity to Bridge Differences: Candidates should demonstrate interest and ability to build connections between individuals with differing cultural, socio-economic, and professional backgrounds.
Orientation Towards Results: Candidates should describe their track record and abilities to produce tangible, successful, and positive results.
Application of GE'DA Digital Fellowship
Complete the online application form by the deadline of July 14, 2023, at 11:59pm EST. All application materials must be in English.  Await notification for the next steps by mid-July early August. Selected applicants will advance to the interview stage of the selection process.
Lastly, It is important to visit the official website link found below to access the application form.
Correspondingly, Join us on Telegram for more opportunities!
Similarly, Visit oyaop.com and oyaschool.com for more scholarship opportunities.